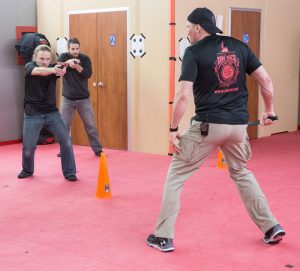 Complex Force On Force Scenario Training November 18th, 2018  10am-6pm at SCALE regional training center: 
Course designed and lead by IDS Chief Instructor and Funker Tactical Team Member Todd Fossey.
Force on Force training (through the use of simulated munitions) is the ultimate pressure test of your skills. During this class you will be run through unique yet complex scenarios suited to your skill level. The goal of this class is to allow you to exercise, evaluate and improve your self-defense skills in a realistic yet safe environment. Scenarios are fluid and dynamic where personal decisions can have a direct impact on the outcome. Actors in the scenario add realism, distractions and stress that standard range training simply cannot offer. These scenarios will be fast paced requiring complex decision-making skills, use of emergency first aid and include after action/after math response all the way to dealing with arriving LEO.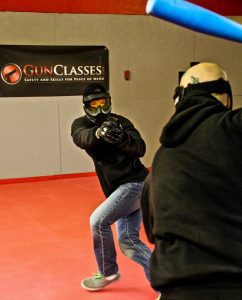 Required Equipment:
A sturdy belt capable of supporting a handgun. Its recommended to bring a light jacket or hoodie and light gloves such as mechanix gloves. Groin protection and a mouth guard highly recommended as well. If you have your own face/eye protection please bring it but we will have some available if you do not have your own.
If you have it available, SIRT Training Pistol and Backup Magazine, Holster for glock 17(No Blackhawk Serpa).
Cost: $179

SCALE Regional Training Center
17706 Valley View Dr, Jordan, MN 55352
Drive past front entrance to rear drive and go around back of building, see image below.
If you have any problems or concerns call us at, 612-750-9176. It will be a long day so we suggest bring a lunch, snacks and hydration. Training will begin in the Matt Room and end in the Scenario Area.