Most critical incidents happen within clinching distance to 6 feet, and they happen suddenly, violently and with little to no warning. Our comprehensive system of self-defense is geared toward integrating the hand-to-hand and the firearm defense skills necessary to avoid or stop the threat at these distances and beyond through the use of intensive and innovative training practices.
At Integrative Defense Strategies we employ established tactics and strategies that have been proven effective time and time again in real world critical incidents. If firearms aren't your thing, check out our hands-free Defensive Options Program you will be glad you did!
---
Control the Takedown & Control the Fight!
Exclusive IDS Seminar by World Renown MMA and Self-Defense Coach Buck Grant!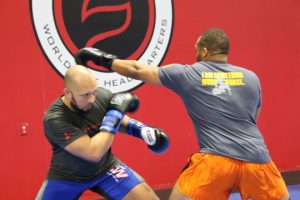 Saturday April 14th, 1:00 – 4:00
Managing the space between standing to the ground and back is essential for modern day combatives. In this ShootBoxing Workshop we will be covering Ground Control, the vital skills of:
* Keeping an opponent down after a takedown.
* Scrambling back to your feet after a takedown or being taken down
* Striking and Defense against strikes on the ground.
Please bring the following Items:
Mouth guard
Groin protection
Boxing gloves
Shin guards
Tuition: $150

---
Fit To Fight Apex Handgun Skills Training Camp:
Friday April 20th – Sunday April 22nd
This is a high level, invite only training camp exclusive to Fit To Fight Black Belts.
Various levels of this training camp will be made available to qualified citizen defenders. See our Events Page For future dates and details.
Friday April 20th: IDS Advanced Training Center
SIRT Handgun Skill Building, Level 1, 2 & 3
Integrated Combatives (Circle Drill), Impact Weapon Defense, In Fight Weapon Retention and In Fight Weapon Access Standing and on the Ground
Ryan Hoover HR-1 Integrated Blade Combatatives (2 hour block)
Saturday April 21st: SCALE Regional Training Center
Force on Force Safety Briefing – Class Room 9:00 – 10:00am
Active Shooter Response for the Armed Citizen Defender – Conducted by SWAT Officer Jake Gribble 10:30 – 12:30
Working Off the Wall While Armed – Padded Combatives Room 1:00 – 3:00
Complex Scenarios (Force on Force) – Scenario Environments and Corridor – 3:30 = 9:00
Sunday April 22nd: SCALE Regional Training Center
Advanced Handgun Training with High Physical Exertion (Live Fire) – SCALE Tactical Range 8:00am – Noon
Required Equipment: SIRT Training Pistol and Backup Magazine, Holster (No Blackhawk Serpa), Handgun, Minimum of 2 Magazines, Ammunition, Ear Pro, Eye Pro
Round Count, Suggested Equipment, Supplies, Logistics, Travel and Lodging Info will be made available in the near future.
Cost: $499

Registration is OPEN!