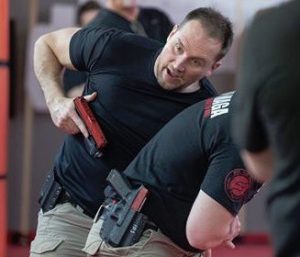 Todd Fossey is the Founder and Chief Instructor at Integrative Defense Strategies in Minneapolis, Minnesota. He is a regular contributor on Funker Tactical YouTube channel, member of the Personal Defense Network's (PDN) Contribution Team, 2nd Amendment Advocate, and champion for the Citizen Defender.
Todd is best known for his innovative, evidence based and holistic approaches to integrating multiple disciplines into training and personal defense, specializing in extreme close quarters, weapons based combatives for armed Citizen Defenders with and emphasis in weapons defense, weapon takeaways, active shooter and terror response training.
After training several years with the Israelis Todd earned his earned is black belt in Krav Maga in 2017. Fossey continues his extensive MMA and submission grappling training under legendary MMA Coach (and Special Forces Instructor) Greg Nelson at the Minnesota Martial Arts Academy. Fossey is a (PFC PSOC) Certified Executive Protection Agent, (FSI) Certified Force Science Analyst and is actively involved with training force on force scenario, active shooter and SWAT training for various law enforcement agencies and departments. In addition to his work in weapons based combatives, firearms and tactical instruction, he is a former lecturer at medical schools and has a 15-year background in psychophysiology offering him special insight into the psychological, physiological and perceptual effects of high-stress critical incidents and human performance.
During the time of his formal education Fossey worked as a bouncer and head of security where he was faced with many violent and life-threatening encounters.
---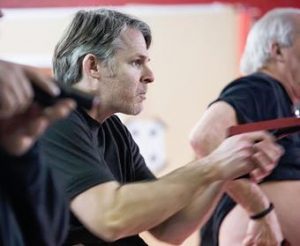 Michael Pilhofer is an NRA Certified Firearms Instructor (# 101000189220301), and NRA Range Safety Officer.
Michael, a Senior instructor in the IDS Instructor Certification Curriculum, has been a teacher/coach nearly all his life with over 25 years helping to decipher and communicate complex subjects in a clear, thoughtful manner. Most recently Michael has 12 years as a Strength and Conditioning specialist. He would characterize himself as a life long learner, always looking to better himself, rarely satisfied with the road commonly taken.
In addition, Michael is an ongoing student in the Fit to Fight Defensive Options program and has a background in Martial Arts having studied Tae Kwon Do and more recently Jiu Jitsu.
---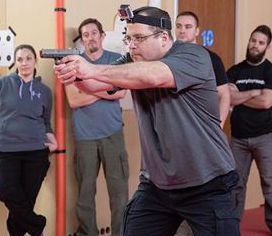 Larry Hotchkiss is an NRA Certified Firearms Instructor (# 101000189220291) and NRA Range Safety Officer. UTM certified Professional Training Organization.
Larry is also a Senior instructor in the IDS Instructor Certification Curriculum. Larry has also spent years studying various martial arts including Southern Praying Mantis Kung Fu, Bagua Kung Fu, Tae Kwon Do and Judo.
In addition, Larry has been a lifelong "student of the iron" specializing in functional strength with an emphasis on Kinesiology and nutritional supplementation to help support over 3 decades of lifting experience.
---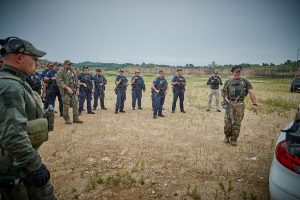 Jake Gribble has been a police officer in the Twin Cities metro area for seven years and is currently a SWAT officer and department firearms/defensive tactics instructor.
Prior to serving in law enforcement, Jake was an active-duty Sergeant in the United States Marine Corps infantry. He completed two deployments to Al Anbar province in Iraq (2006, 2007-2008), where he was decorated for leading Marines on various operations. He also served as a Marine Corps Martial Arts Program instructor.
Outside of the military and law enforcement, Jake has trained in Krav Maga for eight years, starting in a traditional Krav Maga gym and then transitioning to IDS. In competition shooting, Jake holds a Master classification in IDPA's Stock Service Pistol Division. He has trained with numerous prominent instructors and institutions including Kyle Defoor, Craig Douglas, Robert Vogel, Kyle Lamb, Gunsite Acadamy, Direct Action Resource Center, John Farnam, etc.